Introduction to Go Eye (IOS Go app)
Submitted by
macelee
on 2013-03-11 14:16; Last upda ted on: 2016-10-06 12:15
Go Eye is a relatively new IOS Go application on the market. But in my opinion it is the best. It contains a number of innovative ideas that help Go players organise the vast amount of Go resources on the internet. SGF viewer and editor Go Eye is first of all a full-fledged SGF viewer and editor. Let's have a look at the following screen capture because "a picture is worth a thousand words".
Go Eye has nice-looking board and stones, a must for any good Go programs.
Go Eye supports SGF data with branches (e.g. game commentaries) in a very elegant way - variations in games are presented using thumbnail images (this may take a few minutes to get used to). As indicated by the two small dots at the bottom of the side panel, there is a different view which allows you to read and edit the comments associated to the current board position.
The author has managed to pack a lot of functions on this single screen: the board mark-up tools on the top bar, the navigation tools at the bottom of side panel, the Actions menu at top right, and the Game Information dialog (the small 'i' icon). Things work quite well on smaller IPhone screen too.
A different mode presenting game content as books (the page icon below the navigation slider) with realistic page turning effect (shown below).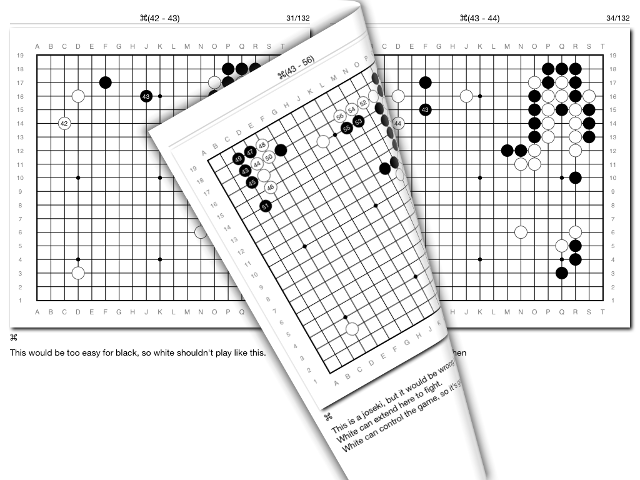 Embedded web browser When browsing a Go website using Safari, if you find an SGF link, click it and you will get a popup allowing you to open the SGF using Go Eye. While this is useful enough, Go Eye makes a major step forward by integrating a web browser so that you can view your favourite Go websites within it, as shown in the screen capture below with the Sensei's Library embedded inside Go Eye. Tap any diagram, you open it with Go Eye. This, together with the database management functions provided, can be used to build up tsumego collections very easily.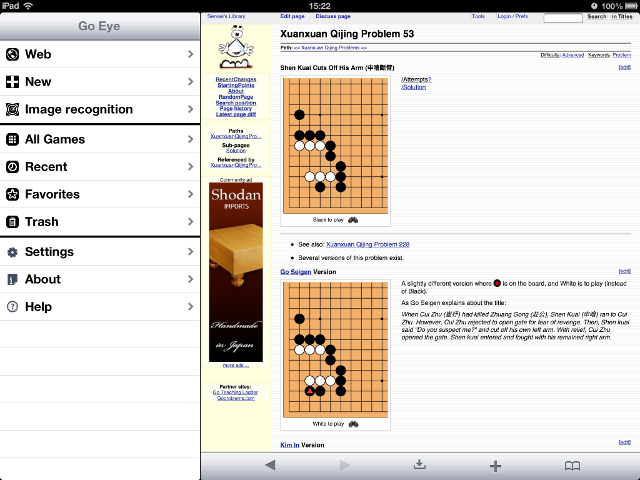 Image recognition Image recognition is one the most technically sophisticated functions provided by Go Eye. There are a lot of computer generated Go-board images on the Internet (for example as gif, jpg and png images). When viewing web pages containing these images, you can save them on your device. For example Safari by default save them with your Photos. Currently Go Eye's embedded browser cannot save these images directly but I've sent the author a feature request to support this in a later release. Go Eye is able to open these images from your Photos folder and attempt to convert them into SGFs. Following screen capture shows one successfully converted image. This is another way to build up my tsumego collection. (The four arrows allow you to shift the
generated SGF on the board in case the boundaries are not correctly recognised)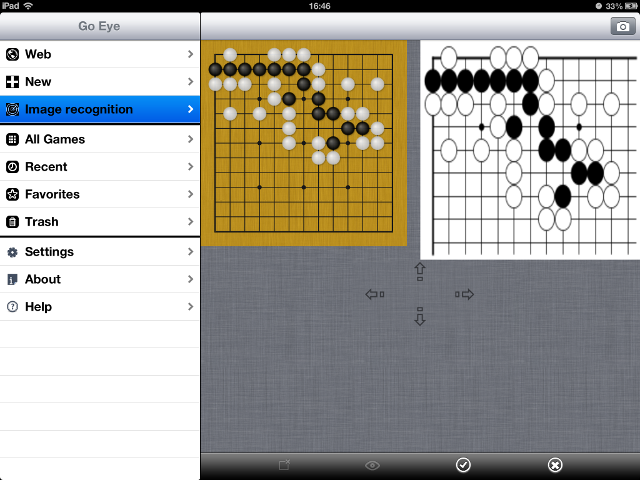 Note that image recognition is not an accurate science. Depending on the quality of the images, or features on the images (such as shadow, highlight etc.) the recognition can be unsuccessful. But in my test the success rate is quite high if the quality of the image is good enough.
Go4Go integration Go Eye does not come with a SGF collection. But when I first found it, I so enjoyed using it that I offered games from my Go4Go collection to be used with it. The author is so technically competent that within days we managed to implement a deep integration in which Go4Go serves game record data to Go Eye. Currently Go Eye users are able to visit the most recent game records on Go4Go (those games found under What's New menu of Go4Go). We plan to improve the integration in the future - for example allowing users to search games by players or tournaments. Following is a screen capture showing how the integration works. You find games you are interested in from the list, click to download and save to view immediately (or at a later time even when you are offline).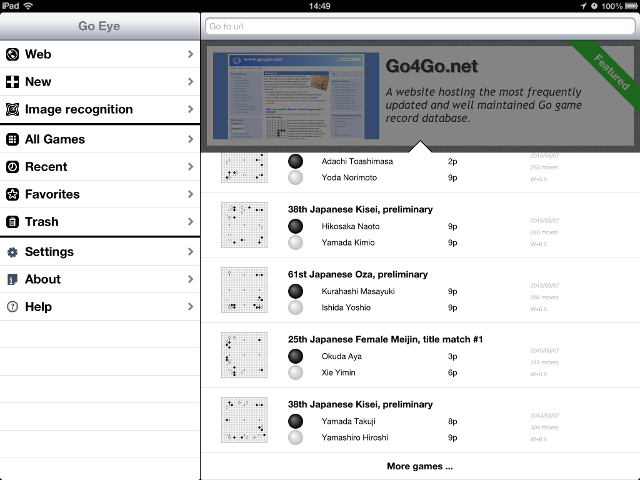 Other features
SGF contents are stored in a database and indexed for quick search. Game records may be searched by year, by player or by pair of players.
Users may classify SGFs in multiple categories called 'Groups'.
It is possible to import large quantity of SGF files. Go Eye may open a collection of SGF packed in zip or rar files. These packages may located at a web URL, as email attachments, or in one of the cloud-based file storage such as Dropbox. However, I do not recommend importing more than 1000 SGFs as the speed is not optimised for the moment.
The embedded browser keeps track of your browsing history and allows you to bookmark pages which can be quite useful.
Links
Promotional Video